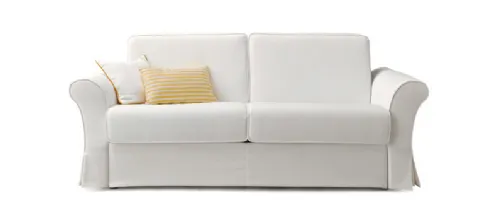 Refinement in a Provencal style sofa bed
Sofa bed ideal for those looking for a classic and refined style that incorporates some 26-nbsp elements; in a shabby chic key, typical of the 26-nbsp; Provencal furnishings. The rounded armrest, the ruffle and the finished edges give the sofa an elegant appearance that integrates perfectly in all these contexts in which è It is important to maintain a link with tradition as in rustic houses or in period apartments.
The easy opening mechanism, without removing the seat and back cushions, reveals a large 212 cm long bed with 140 cm electro-welded mesh and 17 cm mattress.